A little about Polish Pottery:   Bolesławiec pottery is all hand-made and was created as a mainly functional product with history dating back to 1380. The clay is of extremely high quality. It has a high feldspar and silicon content, and is classified as stoneware after firing at temperatures of 2012-2372 degrees Fahrenheit.  Polish Pottery is built to be used: oven, microwave, refrigerator and dishwasher safe.  Polish Pottery is highly durable and safe for food as it is chip and scratch resistant and cadmium and lead-free.  As stoneware, Polish Pottery distributes heat evenly for perfect baking and roasting and keeps your salads cold from refrigerator to table. Best of all, Polish Pottery is very easy to clean!  Absolute beauty from oven to table! 

History of Bolesławiec: Bolesławiec, Miasto Ceramiki (Town of ceramics), was part of the land disputed province of Selesia, and before World War II was considered territory of Germany.  In 1897' a professional ceramics school was founded called Bunzlauer Braunzeug, "Bolesławiec brown stuff".  After World War II, the territory was transferred back to Poland. The Polish people had one of the old factories back in operation as early as 1946. The formation of a trade cooperative (CPLiA) and the Eugeniusz Geppert Academy of Fine Arts supported the revival of the high standard of ceramic production and artistic achievement that you are enjoying today.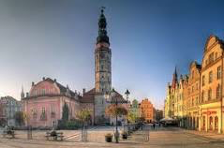 History of Polish Pottery:  Bolesławiec Pottery has history dating back to 1380. The last two centuries, Bolesławiec Pottery transitioned from brown glazed finish, to raised motifs such as flowers and birds with its biggest transition coming in the 19th century. Master Potter, Johann Gottlieb Altman took that wonderful white clay used to make the raised motif, and casted plates and cups using molds.  Additionally he used lead-free glaze that enabled stamping and painting. Most of the more recognizable designs today, like the repeating circles, scales, flowers, dots, and clovers, were created at that time.  Today, Boleslawiec pottery is notable for the white or cream colored stoneware with dark blue, green, yellow, brown, and vibrant red or purple.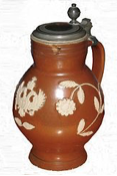 The Art: The Polish art is sure to please all who enjoy traditional folk art style. All of the pieces are hand painted, using sponge stamp and brushes creating amazing works of art. Since each piece is handcrafted, slight variations in color and pattern will exist which adds to its uniqueness. The patterns are separated into three classifications: Traditional, Unikat and Signature. The Traditional series offer simpler patterns, several containing the repeating circles and peacock eye. The Unikat and Signature series increase in intricacy and expression.  A Signature piece is when a ceramics artist has been deemed accomplished and earns the right to create a piece from start to finish and is able to sign it. These pieces are stamped with UNIKAT on the bottom and are highly collectible and are produced in lesser quantities.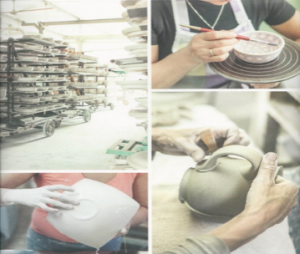 http://en.wikipedia.org/wiki/Boles%C5%82awiec_pottery
Permanent Exhibition. Museum of Ceramics in Boleslaweic. Museum of Ceramics in Boleslawiec. 13 Oct 2008 Permanent Exhibition
About Us:  I was first introduced to Polish Pottery when my husband's job moved our family to Germany in 2002.  I quickly learned that the one "must trip" for the women is to head to Bolesławiec, Poland, home of Polish Pottery.  I had no idea what it was, but it was a trip with just the ladies and no children and that was all I needed to know.  I have to tell you, I will never forget my first visit!  I was amazed! It was like I was on a treasure hunt!  All the patterns and all the pieces and each factory was different when it came to the Unikat and Signature pieces.  I quickly recognized the famous peacock pattern, part of the Traditional series that all the factories appeared to share.  As we moved from one store to the next, buying became harder and harder.  Let me clarify; the buying wasn't the problem; it was determining which pattern and in which piece.  The only thing that stopped us from buying was there was no more room in the car, although we solved that problem by finding a bigger car each time we returned to Poland. When we returned to the States in 2005, I thought how much fun it would be to sell Polish Pottery.  Eight years later after raising my three sons, I imported my first order.  I am still as excited about Polish Pottery as I was the first day I lay eyes on it. Polish Pottery makes a great gift for weddings, birthdays and MOM since all pieces are functional, durable and beautiful and best of all can be used every day. I know you will love it as much as I do.  I am thrilled and excited to bring Polish Pottery to you!